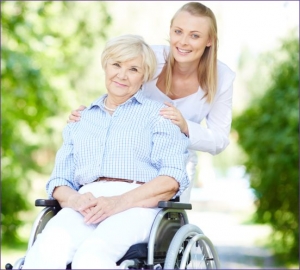 Whether you are searching for Subacute Care in Hazelton for yourself or a loved one, know that the best in subacute care can be found at Ridgeview Healthcare & Rehabilitation Center located in scenic Shenandoah, Pennsylvania.
For years we have been providing excellence in care to the community for subacute, long term and short- term care. We offer many different services that can improve the independence of the patient. We provide the highest quality of life attainable for all those we serve.
Does the facility for Subacute Care in Hazelton offer tracheotomy care, respiratory rehabilitation, IV antibiotic therapies, restorative nursing, joint replacement therapy, prosthetic training, Cardiac Hospice Care, Bladder and bowel retraining?
Here at Ridgeview Healthcare & Rehabilitation Center, we have an amazing team of care providers that offer supportive care with supervision 24/7.
Professional Subacute Care in Hazelton, PA
Our team of licensed RN and LPN nurses provides the highest quality of care. They also become patient advocates as well. Along with supervision, they inspire their patients and offer encouragement and inspiration.
In addition, we have certified nursing assistants that offer assistance to those that require it for bathing, dressing, grooming, toileting and incontinence care. They also participate in ongoing education to always provide the highest quality care with dignity, technique and protocol.
Subacute Care in Hazelton may be closer to your home, but is that a really good reason to get your care there?
You should be searching for care centers that truly offer the highest quality care, comfort and compassion. You get all that and more at Ridgeview Healthcare & Rehabilitation Center.
Our Rehabilitation Programs Offer Advanced Solutions For Subacute Care
Here, you will also dine on delicious as well as nutritious chef inspired cuisine. Each meal is prepared fresh daily using the finest of ingredients. All meals are patient specific as well. So, if you require low salt, sugar or are lactose intolerant, your meal will be specific to your dietary needs. There are always alternate choices to each meal as well.
Patients may dine in the beautiful restaurant style dining room where meals are served by wait staff, or they may dine in-room as well.
Subacute Care Management Services At Ridgeview
We also have a wonderful physical, occupational and speech therapy department that works one on one with each patient, enabling them to reach their anticipated goals at their own pace. In our state-of-the-art gym, miracles happen on a daily basis.
Find Subacute Care Near Hazelton, PA
If you would like to learn more about all the advantages of staying short term here at Ridgeview Healthcare & Rehabilitation Center, you may call our admissions representative by dialing directly to 507 462-1921. They can assist you by answering questions you may have regarding room availability, insurance participation, admission protocol, and to schedule a tour.
For Subacute Care in Hazelton | Call Ridgewood Healthcare
Please call or schedule to come and take a tour. We want you to make an informed decision regarding the care and comfort of your loved one. After all, that is what Ridgeview Healthcare & Rehabilitation is all about.
The mission of Ridgeview Healthcare & Rehabilitation Center is to provide high-quality care to the local and extended community with excellence, compassion, and competence.
OUR CARE TEAM INCLUDES:
Licensed Nurses (RN/LPN)
Certified Nursing Assistants
Physical, Occupational and Speech Therapists
Clinical Social Worker
Wound Care Nurse
Wound Care Physician
Dietician
Psychology Consultant
Psychiatrist Consultant
OUR ONSITE SERVICES INCLUDE:
Short Term Rehab
Long Term Care
Respite Stays
Pulmonary Rehab
Registered Dietician
Wound & Wound Vac's
Ileostomies/Urostomies
IV Therapy
Palliative & Terminal Care
SCHEDULE A TOUR
Use the form below or call 570-462-1921 to schedule a tour at Ridgeview Healthcare & Rehabilitation Center to meet our caring staff and see all that we have to offer.