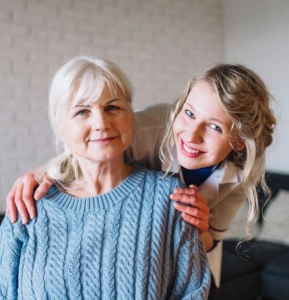 The best Skilled Nursing Care in Ringtown can be found in Shenandoah, Pennsylvania at Ridgeview Healthcare & Rehabilitation Center.
When searching for the best in skilled nursing, it is best to concentrate on facilities that have a reputation for care, comfort and compassion. That is exactly what you will find here at Ridgeview Healthcare & Rehabilitation Center.
Local Experts in Senior Care and Nursing Home Services
For years we have been providing excellence in care by our stellar nursing team. Combined efforts of our licensed RN and LPN nurses help our patients through understanding, compassion, medication dispensing and encouragement, along with support.
Each nurse has the experience and expertise to help you or your loved one excel in healing.
Skilled Nursing Care in Ringtown may be closer to your home, but really counts is the quality of care to each and every patient. Our goal is for our patients to receive a wide range of services that will improve their mobility, independence and the highest quality of life attainable for all those we serve.
Call On Ridgeview For Experienced Nursing Services in Ringtown, PA
We offer private and semi-private rooms that are spacious and permit for ease of ambulation and mobility. There are planned daily activities to stimulate the mind, body and soul. Participation is not mandated, although patients are excited to get involved. Our activities range from exercise classes of games.
Setting a New Standard for Senior Nursing Homes
If you are considering Skilled Nursing Care in Ringtown, know that here at Ridgeview Healthcare & Rehabilitation Center we provide delicious as well as nutritious chef inspired cuisine. Each meal is prepared fresh daily using the finest of ingredients. Each meal is also specific to each patient's dietary needs.
So, if you are lactose intolerant, require low salt or no sugar, your meal will be specific to your needs.
There truly is no need for you to get Skilled Nursing Care in Ringtown when we have programs to meet all your needs. With our variety of services, you will not be disappointed. Whether you require joint replacement therapy, prosthetic training, cardiac hospice care, bladder/bowel retraining, require tracheotomy care, respiratory rehabilitation, IV antibiotic therapy or restorative nursing care come to Ridgeview Healthcare & Rehabilitation Center.
We also have a wonderful physical, occupational and speech therapy department, along with our state-of-the-art gym where miracles happen on a daily basis.
Get Skilled Nursing Care Near Ringtown, Pennsylvania
For more information regarding all of the available programs, you may call directly to speak with our knowledgeable representative at 570 462-1921. They can assist you by answering any questions you may have regarding room availability, admission protocol, insurance participation and to schedule a tour.
Ridgeview Nursing Services Offer Advanced Solutions For Rehabilitation
Here at Ridgeview Healthcare & Rehabilitation Center, we know how important it is to make informed decisions regarding healthcare and the care of you or your loved one. Therefore, we encourage you to take a tour and see how we can help with recovery. Getting the best care should be at the top of your list.
So, call us today at 570 462-1921 instead of checking out the Skilled Nursing Care in Ringtown. After all, we are just what you have been searching for.
For Skilled Nursing Care in Ringtown | Call Ridgewood Healthcare
Please call or schedule to come and take a tour. We want you to make an informed decision regarding the care and comfort of your loved one. After all, that is what Ridgeview Healthcare & Rehabilitation is all about.
The mission of Ridgeview Healthcare & Rehabilitation Center is to provide high-quality care to the local and extended community with excellence, compassion, and competence.
OUR CARE TEAM INCLUDES:
Licensed Nurses (RN/LPN)
Certified Nursing Assistants
Physical, Occupational and Speech Therapists
Clinical Social Worker
Wound Care Nurse
Wound Care Physician
Dietician
Psychology Consultant
Psychiatrist Consultant
OUR ONSITE SERVICES INCLUDE:
Short Term Rehab
Long Term Care
Respite Stays
Pulmonary Rehab
Registered Dietician
Wound & Wound Vac's
Ileostomies/Urostomies
IV Therapy
Palliative & Terminal Care
SCHEDULE A TOUR
Use the form below or call 570-462-1921 to schedule a tour at Ridgeview Healthcare & Rehabilitation Center to meet our caring staff and see all that we have to offer.